M° Silvano Pasini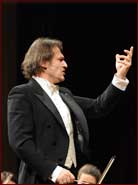 Graduated in 1989 in Violin at the State School of Music "A.Vivaldi" in Alessandria under the guidance of M° Fabio Biondi, he specialised in Orchestra Conduction and Choir Conduction with Paolo Ferrara, Nicola Conci, Bruno Rigacci.

He carried out an intense concertistic activity in various Chamber and Symphonic formations collaborating with Orchestras such as: RAI Symphony Orchestra of Turin, Chamber Orchestra of Bologna, Italian Philarmonic Orchestra, Chamber Orchestra of Engelberg, Columbus Orchestra, Italian Symphonic Orchestra, Italian Classic Orchestra, "G.Cantelli" Orchestra of Milan, Encore Orchestra of Orlando (Florida), realizing tournée in Austria, Belarus, France, Germany, Spain, Switzerland, Slovenia, Hungary, Japan, India and United States of America.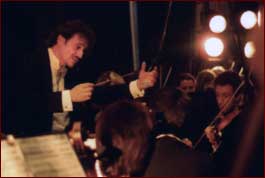 He took part in important musical and television events such as: "Pavarotti & Friends", "Festival of Castrocaro", "30 ore per la vita", "Note di Natale", "Natale in Vaticano", "Music for Asia", for the networks Rai and Mediaset, collaborating in recording studios and in tours with the main artists in the light music scene: Andrea Bocelli, Enrico Ruggeri, Franco Battiato, Solomon Bourke, 883, Gianluca Grignani, Francesco Renga, Francesco Baccini. In addition, he played concerts with Sting, Joe Cocker, Mariah Carey, James Brown, Bono, Eric Clapton, Ricky Martin, Renato Zero, Laura Pausini.

He took part in the television broadcast "Tanti cuori attorno al Papa", a show for the celebration of Pope Giovanni Paolo II's birthday, in Sala Nervi in Vatican City.

In 2004 he took part in a tournèe in the United States with Orchestra Sinfonica Siciliana, holding concerts at the Metropolitan and in New York State.

He made recordings with the main record labels, among which we mention "Sony JVC" with which he recorded in 2002 a CD in Tokyo with Japanese Soprano Miwako Matsumoto; the CD "The Queen of the Opera" with Soprano Silvia Dalla Benetta had great success.

He has been recently invited as Orchestra Conductor at the European Lyric Theatre with which he staged "Madama Butterfly" and "Il Barbiere di Siviglia".

He is the main Conductor of the Orchestra Sinfonica di Asti, for which he creates and developes arrangements for exclusive shows, in addition he is Violin teacher at the Liceo Musicale of Alessandria.

He was invited, conducting the Orchestra Sinfonica di Asti, at "Ravello Festival 2015" with the concert "Musiche da OSCAR".